Ancillary Services Management
Provider Spotlight
Starry – So Good You Can't Ignore Them
Starry – So Good You Can't Ignore Them

Wanna find out about a new MDU high speed internet service so innovative it won 1st place at the Boston Shark Tank competition?  Jump into this ASM Provider Spotlight interview (don't worry, it won't bite) with Roby Farchione, Senior Director Business Development for Starry Internet.
CHILI – Want to start with some questions about you and your background.  Easy first question – What was your first job?
FARCHIONE – My first job was selling office supplies door-to-door for WB Mason. I was the first field rep hired in a brand-new expansion market for the company and cut my teeth knocking on the door of 50+ businesses per day – everything from large corporate office parks to tattoo parlors and auto mechanics.
CHILI – Is there anything you learned on that first job you still think about nowadays?
FARCHIONE – "Control what you can control" is a mantra that I picked up early on in this job and has continued to serve me well in both my professional and personal life. I couldn't stop doors from being shut in my face on a daily basis (literally), but what I could control were things like my attitude, work ethic, resilience, and sense of humor. I also quickly learned that I'd have to put my ego aside to enable success in Sales. I honed in on these aspects of my approach every day, and pretty quickly found myself as a top performer. This framework has stuck with me ever since.
CHILI – How did you find out about Starry and what caused you to join up with them?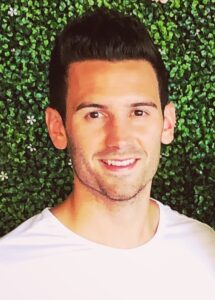 FARCHIONE – I was looking to get back on the ground floor of a high-growth company and help with go-to-market strategy and execution, speaking with dozens of different startups in Boston at the time. My conversation with the executives at Starry was markedly different than the conversations I was having with other companies. The Starry team had the ambitious goal of fundamentally changing the way that millions of consumers connect to and experience the internet. As someone who has experienced a fair share of frustration with the incumbent cable providers firsthand, this resonated with me and felt like a way to truly make a positive dent in the universe.
CHILI – Looks like you went from more established sales organizations to a start-up.  What are some of the advantages of being a plucky start-up mixing it up with established giants like Verizon and Comcast?
FARCHIONE – We have been able to assemble an incredibly smart, tenacious, scrappy group of people who could work for any number of world class companies, but have chosen to come to Starry because they genuinely believe in the mission of breaking the monopolistic nature of the industry, and giving people a choice.
CHILI – What are the two best things for residents about Starry's product offering?
FARCHIONE – Starry is a completely re-imagined connectivity experience, so identifying just two components is a challenge! Unlike many of the incumbent providers, we have no incentive to keep residents locked into a traditional cable bundle. This is a huge value-add for residents in multifamily buildings who no longer want or need an expensive, cumbersome bundle and just want the internet. In addition, our next-gen network leapfrogs traditional cable and wireline infrastructure, meaning that residents will have a much more seamless experience with activities like working from home, video conferencing, and streaming Netflix or other over-the-top content.
CHILI – What are the two best things Starry offers for MDU owners and managers?
FARCHIONE – Starry is a differentiator that industry leading landlords are leveraging to attract and retain modern renters — many of whom prioritize exceptional internet connectivity and no longer want the traditional cable bundle. In addition, enabling a building is minimally invasive (think days, not months), so there is no disruption to building operations. Oh, and we give ourselves the bill, so it's completely free for MDU owners/managers.
CHILI – I understand Starry is not available in all areas.  Where is it available?  Is there a certain geography and MDU building type required to get the service?
FARCHIONE – Starry is currently available in 5 major markets nationwide – Washington, DC, Boston, New York City, Los Angeles, and Denver. Our current focus is on medium to large MDU's, but over time we will have solutions available for smaller buildings as well.
CHILI – How is your technology different from existing players and does that impact the user experience for residents?
FARCHIONE – Starry's technology leapfrogs traditional cable infrastructure by utilizing a proprietary wireless solution for last-mile connectivity. This allows us to deliver high-bandwidth connectivity at a fraction of the cost that it would require for a wireline network build. We re-invest this cost savings into world class, 24/7 customer care from real humans as well as everyday value pricing for our customers ($50/month flat rate, with absolutely no hidden fees, data caps, or bundle)
CHILI – A connection to Boston Shark Tank is on your LinkedIn profile.  As a fan of the show, I wanted to know more about what took place at that event.
FARCHIONE – Yes – that was a very fun event that I was fortunate to be able to participate in last year. Starry, along with several other growth-stage tech companies focused on the real estate sector, had to present Shark Tank style to a panel of real estate owners and operators. The Sharks were not easy on us, but ultimately selected Starry as the company with the best business plan for delivering value to landlords and winner of the competition!
CHILI – I also saw the Revenue Collective on your LinkedIn.  It sounds like a mysterious organization from a Tom Clancy novel.  I'm guessing that is probably not at all correct.  What do they do, and who should be interested in working with them?
FARCHIONE – Ha ha – not as exciting as your theory but Revenue Collective is a community of Commercial go-to-market operators at leading companies across the globe. Any Sales or Marketing leader interested in leveling-up their skill set and/or professional network should check Revenue Collective out.
CHILI – Are there any books you have given to others that you would recommend to our readers?  If so, what are they and why?
FARCHIONE – So Good They Can't Ignore You by Cal Newport is probably the book I've gifted the most. It's the best framework I've found for how to think about and architect a meaningful career and I love to give it to friends and family who are graduating or otherwise at a critical inflection point in their career.
Also, a huge fan of big picture non-fiction works – Sapiens is probably the most accessible example – and find that they help put life in perspective. It's harder to get upset at a colleague when you remember that none of us chose the genetic or environmental "cards that we were dealt" and we're all just trying to figure it out!
CHILI – In this digital age of blogs and podcasts, not everyone is a big book reader. If you aren't a big book reader, do you have any good movie, podcast or TV recommendations?
FARCHIONE – I don't watch much TV, but will give a bonus book recommendation – Ten Percent Happier by Dan Harris will change your life!
CHILI – What question should I have asked you that I did not ask?
FARCHIONE – What is the one thing that you would put on a giant billboard for everyone to see?
Answer: Be kind; everyone you meet is fighting a hard battle.
CHILI – Well, your battle to give great answers is done, and you won it.  Thanks for joining us for the ASM Provider Spotlight.